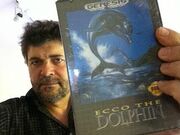 "I was paranoid about game rentals and kids beating the game over the weekend. So.. I.. uh... made it hard." —Ed Annunziata
Ed Annunziata is the creator of Ecco the Dolphin. During his time with Sega of America, he developed some of the most popular titles on their consoles including the Sega Genesis, Sega 32X, and Sega Saturn. During the Dreamcast years he made a prototype for a new Chakan game, however ,the game was never greenlit for full development.
After leaving Sega, he worked on a variety of other platforms including Playstation, N-Gage, mobile, and iOS. Currently, he runs his own company called Playchemy where he develops new video games. If given the chance, he plans on both continuing the Ecco series and making a new Chakan game. Annunziata has also commented on Twitter about the possibility of rebooting the Ecco series.
Currently, he is developing a spiritual successor to the Ecco series called The Little Blue. The Little Blue will be a brand new underwater adventure game that will have a familiar story, themes, and gameplay to the Ecco games. The original plan was to make a much larger game called The Big Blue, however, it did not meet its funding target on Kickstarter. The Big Blue will be revisited upon completion of The Little Blue.
You can keep up with and follow Ed Annunziata at his Twitter.
Development History
Created:
Ecco the Dolphin (Genesis)
Ecco: The Tides of Time (Genesis)
Ecco Jr. (Genesis)
Chakan the Forever Man (Genesis)
Dungeons & Dragons: Warriors of the Eternal Sun (Genesis)
Eclectibles
Kolibri (32X)
Mile High Pinball
Mr. Bones (Saturn)
Pyramid Run
Slice HD
SmallBall Baseball
Smash Spin Rage
SNAP Mobile Soccer
Super Smashball
Three Dirty Dwarves (Saturn)
Tiny Tank (Playstation)
Worked on:
Abrams Battle Tank
688 Attack Sub
Spider-Man (Genesis)
Cyborg Justice (Genesis)
Jurassic Park
Vectorman (Genesis)
X-Men (Genesis)
X-Men 2: Clone Wars (Genesis)
Currently developing:
Pedal 2 the Metal
Infinite Worlds
Paper RPG
Cognotion
Upcoming:
Canceled:
 Gallery
Community content is available under
CC-BY-SA
unless otherwise noted.